Man cleared of fire bombing says agent set him up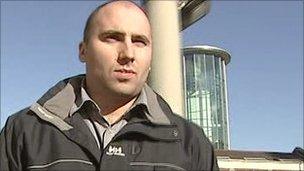 A solicitor for a Londonderry man cleared of a dissident republican fire bomb attack republicans has accused the security services of setting him up.
Anton Craig spent 17 months in prison waiting to go on trial charged with involvement in a dissident republican fire bombing campaign.
His trial was due to start at Belfast Crown Court on Wednesday.
However, the public prosecution service announced it was offering no evidence against him. No reasons were given.
Judge Tom Burgess then directed the jury to find Mr Craig not guilty of both charges.
Mr Craig, 25, from William Street in Derry, had been accused of planting an incendiary device at a toy store in a retail apark on Belfast's Boucher Road in November 2006, and of possessing the device the day before the attack.
After the not guilty verdicts were returned on Wednesday, defence barrister Gregg Berry QC told the judge he wanted to make an application for the contents of a letter from the PPS, containing confidential information about the case, to be divulged.
The judge said he will hear the application in camera, which means the media will not be present, on 1 November.
The solicitor representing Mr Craig said the case raised serious questions about the role of the security services.
He alleged that another individual, who cannot be named for legal reasons, had instigated the fire bomb attack, while working as a paid agent of the state.
Niall Murphy, of Kevin Winters and Company, said: "When our client made his defence in crown court by means of a defence statement, he made a very particular defence.
"The defence was that he insisted that another individual, who cannot be named for legal reasons, commissioned, prepared and instigated this attack for which our client was charged.
"Our client has always maintained that the other individual is an agent of the British security services who has deliberately attempted to frame our client for this crime and worryingly therefore this raises the spectre of state-sponsored terrorism."
When asked if he was alleging that Anton Craig had been set up by the security services, he said: "Absolutely, our client made a very explicit defence in his statement in the crown court which set out his contention that he had been the victim of a state agent who had specifically framed him for the offence for which he was charged."
Mr Craig's legal team say he plans to launch a claim for compensation for unlawful detention.