Dog training scheme strengthens cross-border ties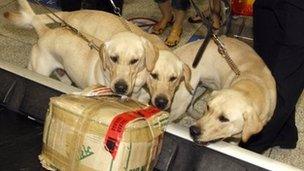 A cross border dog training programme has strengthened ties between the Northern Ireland Prison Service and its counterpart in the Republic.
Representatives from the NIPS are due in Portlaoise on Thursday.
They will watch staff from the Irish Prison Service graduate from the Initial Patrol dog handling course.
All successful handlers were trained in Portlaoise by NIPS dog handling trainers.
It is the first time in the history of the two services that the training has been carried out in County Laois and not at the NIPS grounds in Millisle, County Down.
NIPS Director Robin Masefield said it was an excellent example of the close working relationship that exists between Northern Ireland Prison Service (NIPS) and the IPS.
He added: "It is great to see colleagues in the two prison services working together, cementing the co-operation and the bonds that have already been established.
"Building relationships in this way can only be good for both services.
"NIPS and IPS regularly come together on various occasions, but this is the first time that NIPS staff have trained our colleagues at their own training facility.
"Co-operation is at a high level."
The Director General of the Irish Prison Service, Brian Purcell, presented the trainees with their certificates.
He also welcomed this joint initiative and said it shows co-operation between the two bodies is at an all-time high.
Mr Purcell added: "This is a very worthwhile venture which is reflective of the close working relationships that are being fostered by our two services."
Related Internet Links
The BBC is not responsible for the content of external sites.