Capital projects in NI 'will suffer' because of cuts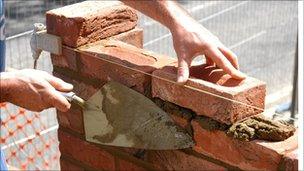 There are fears the Northern Ireland construction sector could sink further into decline as a result of the cuts announced in the Spending Review.
It was revealed on Wednesday that the executive's capital spending budget will fall by 40%.
Money set aside by the executive for large construction projects has been cut more than was predicted.
Ulster Bank chief economist Richard Ramsay said the outlook for government-funded building was bleak.
He warned the cuts in public-funded building programmes will be felt across the economy.
"I suppose where it's bad news is going to be in capital investment which is particularly relevant for the construction industry," he said.
"That's all the infrastructure investment, where we're going to see cuts of around 40% in real terms over the next four years.
"That will lead to real damage to the economy and job losses in the construction sector going forward."
The chief executive of the Construction Employers' Federation, John Armstrong, said that because of the "intricate link" between the building industry and the wider Northern Ireland economy, the executive should take "clear and decisive action."
He added that the focus should be on growing the "wealth-generating" private sector.
"One of the ways of doing that is by investing in our infrastructure - our schools, hospitals, transport, water and social housing."
He added that every £1 spent on construction generated £2.84 for the wider economy and that the executive needed to take unpopular decisions, including potentially introducing domestic water charges and selling assets, to raise the initial income.
The cutbacks in the executive's capital building programme follow on from an already significant decline in the construction industry as a result of the recession.
The federation has said that 21,000 people have lost their jobs in the sector during the recession, 13,000 of whom, it claims, are still on benefits.
Mr Armstrong said that despite the bad news, he believed "the glass is half-full".
"I think if the executive take this clear and decisive action and pull together, then things are maybe more positive than we might expect," he said.
The Department of Finance anticipates that a total of £4bn will be taken out of the executive budget over the next four years.
That could mean the loss of up to 20,000 public sector jobs and that will also take money and jobs out of the private sector.
Cuts in welfare payments could take further millions out of the local economy.
£4.2bn per year is spent on welfare payments in Northern Ireland each year.
The Executive will discuss the full implications of the cuts on Friday.