Ravenhill facing redevelopment planning hurdle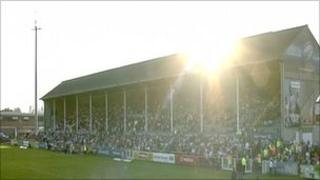 The redevelopment of Ravenhill rugby ground will have to cross a major planning hurdle before it can go ahead.
The planning application is now classed as an Article 31 indicating it could be referred to a public inquiry.
It details proposals to completely rebuild the main stand at the south Belfast ground.
It is part of a project which includes upgrading the main venues for soccer, rugby and Gaelic football at Windsor Park, Ravenhill and Casement Park.
There are also plans to redevelop two other stands at Ravenhill as well as upgrading facilities around the stadium.
The Department of Environment classed the Ravenhill plan as an Article 31 application on 4 October, indicating it could be referred to a public inquiry.
Such an inquiry would be held before the Planning Appeals Commission.
The department could also issue the applicant - the Ulster branch of the Irish Rugby Football Union - with a decision, which the branch could appeal if it does not go in its favour.
'Substantial improvement'
One side of Ravenhill has already been rebuilt at a cost of £5m.
Belfast City Council discussed the application at a meeting on Thursday.
Other recent developments to which the department has applied Article 31 include the redevelopment of Sprucefield, incorporating the flagship John Lewis store, and the proposed runway extension to George Best Belfast City Airport.
In deciding whether to apply the procedure to specific applications, the department uses various criteria, including the scale and the strategic and environmental significance of the proposals.
The Planning Service has said Article 31 applied to the Ravenhill development because it would "affect the whole of a neighbourhood".
A spokeswoman for Ulster Rugby said the sporting body had "always been advised that because of the strategic importance of our re-development", the application would be designated as an Article 31.
"We have worked very hard in advance of this submission and we hope all of our professional preparation and stakeholder contact will ensure that this application is dealt with quickly and efficiently," she added.
South Belfast MLA Jimmy Spratt said that he was not aware of widespread opposition to the proposals among residents in the Ravenhill neighbourhood and said he hoped the application would be dealt with quickly.
"I will certainly represent the concerns of constituents if they have any but I have to say that at this stage they have not been forthcoming.
"This represents a substantial improvement to the facilities at Ravenhill and I hope that this Article 31 designation can be resolved as soon as possible."