Attwood urges Stormont maturity over Spending Review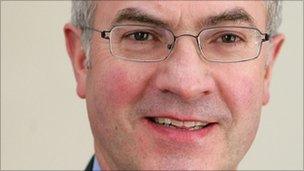 Northern Ireland ministers need to take a "mature" approach to managing the government's spending review, the social development minister has said.
The SDLP's Alex Attwood said the executive must put the "poor and needy" at the heart of its financial planning.
He said the DUP and Sinn Fein could "suit their own particular needs" or departments could be "top-sliced".
"We could do what people in Northern Ireland need now, mature and radical financial planning," he said.
Along with DUP leader and first minister Peter Robinson and the deputy first minister, Sinn Fein's Martin McGuinness, the executive is comprised of four DUP ministers, three Sinn Fein ministers, two from the Ulster Unionists and one each from the SDLP and the Alliance Party.
Ministers will discuss how to deal with the cuts on Friday, and Mr Attwood said putting the "poor and needy" should be its priority.
"When the executive decides its budget priorities, it must protect those who are vulnerable and disadvantaged, given the slap in the face they received from the Chancellor," he said.
Chancellor George Osborne announced a further £7bn in welfare savings were planned on top of £11bn already announced.
Mr Attwood said this would mean benefits cuts of about £200m in Northern Ireland.
He said Westminster should appreciate that the legacy of the Troubles meant that although deprivation levels may be similar to those in Britain, it had different consequences in Northern Ireland.
"London can't say on the one hand it accepts Northern Ireland has a severe level of deprivation, complicated by the legacy of conflict, and then say by the way you'll just have to take equal pain with Britain," he said.
Related Internet Links
The BBC is not responsible for the content of external sites.