Cardinal criticises Robinson stance on education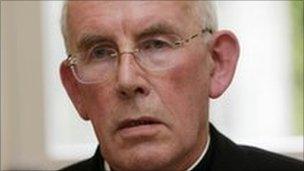 The leader of the Catholic Church in Ireland has said that Peter Robinson's comments on the NI education system have created "distrust and suspicion".
Cardinal Sean Brady said the comments were "a stark warning" which "set back" the future of education.
It follows a speech by Mr Robinson in which he described the current system as a "benign form of apartheid".
The first minister said that while he had no objection to church schools, he objected to the state funding them.
In a speech on Thursday the cardinal referred directly to the controversy over Mr Robinson's remarks.
"Recent suggestions that schools in Northern Ireland should be forced into one single state system are a stark warning to all those who respect diversity and the rights of parents," he said.
"It seems strange that people in Northern Ireland are being told that they should accept a lower standard of rights and freedoms than they would have if they lived in Britain, Scotland or the south of Ireland.
"People in Northern Ireland deserve to live in a normal society."
The cardinal said the comments had "set back" discussions on the future of education, north and south and had created "distrust and suspicion".
The speech which sparked the controversy was made by Mr Robinson last Friday.
In an apparent reference to Catholic schools, he said he had no objection to church schools but he did object to the state paying for them.
"It may take ten years or longer to address this problem, which dates back many decades, but the real crime would be to accept the status quo for the sake of a quiet life," he said.
"The benefits of such a system are not merely financial but could play a transformative role in changing society in Northern Ireland."
"Future generations will not thank us if we fail to address this issue," the DUP leader said.
The remarks have been welcomed by supporters of integrated education but criticised by the Catholic church.
Related Internet Links
The BBC is not responsible for the content of external sites.