Queen and Duke on Northern Ireland visit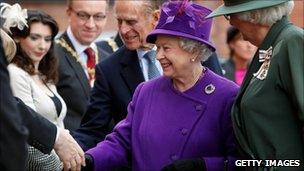 The Queen and the Duke of Edinburgh are continuing a series of engagements in Northern Ireland.
They will carry out a number of visits during their two day stay.
The Queen is expected to meet separately with the Secretary of State Owen Paterson and the First Minister Peter Robinson on Thursday evening.
The Royal couple have been meeting representatives from a children's charity at Hillsborough Castle.
Around a hundred representatives from the charity Action for Children had gathered for the reception.
The Queen is patron of the charity, which supports some of Northern Ireland's most vulnerable young people.
Helen Dunne is from the charity: "We currently have 18 projects and we've been in Northern Ireland for ten years although we have a long history across the rest of the UK," she said.
"In Northern Ireland we work with about 5,000 children and families aged nought to seven."
The Royal couple arrived at George Best Belfast City Airport early on Thursday.
Dame Mary Peters, the Lord-Lieutenant of the County Borough of Belfast, and Secretary of State for Northern Ireland Owen Paterson, greeted them on arrival.
Queen Elizabeth II and Prince Philip's first stop was to the studios of UTV on the Ormeau Road in Belfast.
Their visit marks the company's 50th year of broadcasting and its switch over to high definition transmissions.
They were welcomed by UTV chairman John B McGuckian and were taken on a tour of the building.
The Queen was also treated to a personal weather forecast by UTV weather man Frank Mitchell.
The couple then attended a lunch hosted by Mr McGuckian with invited guests from the business sector in Northern Ireland.