Police seize hundreds of fireworks in Derry searches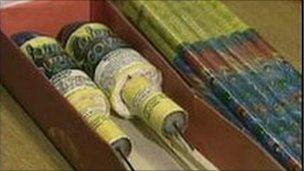 Police seized 190 fireworks during a search of a house in Londonderry on Wednesday.
The rocket-type fireworks were found at a house in Marianus Park in the Ballymagroarty estate.
The seizure follows the discovery of 70 rockets and 100 bangers during searches at another house at O'Connor Court in Ballymagroarty last Friday.
Police said they also dealt with a 13-year-old who was throwing bangers in the nearby Hazelbank area.
Inspector Trevor McKeown said children should always be supervised around fireworks.
"Fireworks require a licence, except indoor fireworks and sparklers.
"It is an offence to throw fireworks in the street.
"Only adults should handle fireworks; never go back to a firework once lit; and stand well back," he added.
Anyone caught misusing fireworks faces a fine of up to £5,000.
Related Internet Links
The BBC is not responsible for the content of external sites.