Caitriona Ruane says education system 'wasting money'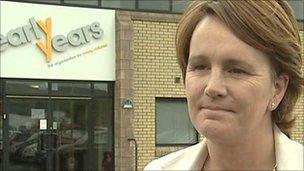 Northern Ireland's schools system is squandering money, Education Minister Caitriona Ruane has said.
Ms Ruane said she had suggested areas where savings could be made to help deal with the Spending Review.
The Sinn Fein minister said post-primary schools had received a disproportionate amount of funding.
It was unsustainable for nearby schools to run small A-level classes on one subject while primary schools had large classes with few resources, she said.
"What I want to do is use the money I fight for in the best possible way, and I don't want it squandered," she said.
"I want it used to get into the classroom, on to the front-line, so we have high quality education with equality at its core."
Ms Ruane repeated her call for the Education and Skills Authority, still awaiting assembly approval, to be put in place to replace the functions of education and library boards and other bodies like the CCMS.
"We have too many organisations administering education," she said.
"There is too much money being spent on chief executives and finance managers, and I would rather spend money on the front-line."
Ministers from the Northern Ireland Executive are to meet on Friday to discuss the next steps following Chancellor George Osborne's Spending Review.
Politicians in Northern Ireland have widely condemned the cuts, described by Secretary of State Owen Paterson as "a quite remarkable deal".