Massereene murder trial decision delayed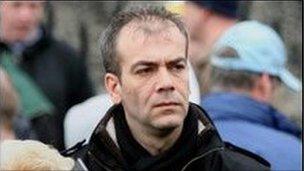 A judge has delayed a decision on whether two men will stand trial for the Real IRA murders of two soldiers at Massereene barracks last year.
Colin Francis Duffy, 42, from Forest Glebe in Lurgan and Brian Patrick Shivers, 45, from Sperrin Mews in Magherafelt are charged with murder.
They also face several charges of attempted murder.
The case was adjourned after prosecution lawyers asked for more time to examine a fresh defence submission.
Sappers Mark Quinsey and Patrick Azimkhar were shot dead by gunmen on 7 March last year, hours before they were due to be deployed to Afghanistan.
A number of other people were wounded, including a man delivering pizza to the soldiers.
Defence lawyers raised a Court of Appeal case where a conviction was quashed on the basis that DNA evidence was insufficient to convict a man.
The evidence in this case, which defence lawyers claimed was similar to the one being made against their clients, involved an attempt to burn a car, Coleraine Magistrates Court was told.
The men's lawyers argued the evidence in the Court of Appeal case was stronger than that against their clients.
District Judge George Connor said that this was a significant development and the prosecution should be allowed to take their time to analyse the case.
The court is to reconvene via videolink on 26 October to set a date for the conclusion of the preliminary enquiry into whether the two men should stand trial.