Doggie actor is accomplished linguist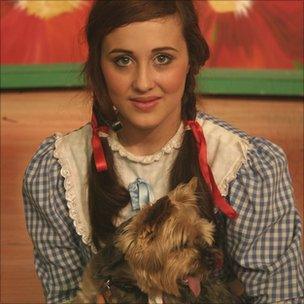 Judy Garland was the star in the Wizard of Oz but it was an Irish language enthusiast who stole the show at a Belfast college's version of the Hollywood classic.
When St Dominic's College, Belfast, prepared to stage the musical, they cast around for a dog to play the part of Dorothy's dog, Toto.
Fifth-year student Andrea Franklin, who plays Dorothy, came to the rescue by recruiting her aunt's pet, Rosie, for the canine lead.
To the delight of students, staff, production team and cast, Rosie was not only an accomplished actor but also a linguist who responded to Andrea's commands in Irish.
The cheeky Yorkshire terrier acted perfectly on cue when told in Irish to sit, come here and give a kiss.
Louise Webb, of St Dominic's drama department, produced the show which ran until Thursday evening.
Mrs Webb said the musical was staged as part of a year of celebrations to mark St Dominic's 140th anniversary.
"We decided we would do something which the girls would really enjoy," she said.
"We have about 100 of a cast, we have a professonal director and a professional set and costumes from the north of England.
"So it's really a fabulous, wonderful experience for the girls and we have been sold out all week."
She said rehearsals were already well underway before Rosie came on the scene.
"The girls had been rehearsing for six or seven weeks," she said.
"Toto/Rosie arrived about ten days ago and she just steals the show every night.