Queen and Duke on second day of Northern Ireland visit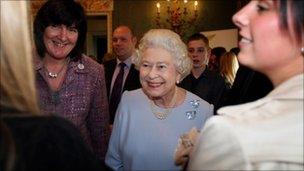 The Queen and the Duke of Edinburgh have attended a reception at Hillsborough Castle.
It was the first of a series of engagements for the couple on the second day of their offical visit to Northen Ireland.
The Queen met around 180 guests at the reception which celebrated 150 years of Cadet Forces.
The Royal couple are due to leave Belfast on Friday afternoon.
The Queen and Prince Philip met cadets aged from 14 to 17 from the four cadet forces in Northern Ireland.
Last night the couple attended a black tie dinner at Hillsborough Castle when they met people from the business community.
Earlier on Thursday there was a special reception at the castle for the charity Children in Action of which the Queen is patron.
The Queen also held meetings with the secretary of State Owen Patterson, the First Minister Peter Robinson and visited the UTV studios in Belfast.