Health capital budget could be cut by 37 per cent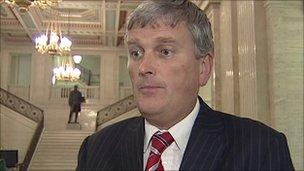 The chairman of the health committee, has described the impact of the Spending Review cuts on health's capital budget as "disastrous".
Jim Wells said if health is treated the same as the other departments in Northern Ireland, it would lose 6.9% of its revenue funding.
Mr Wells said he was very concerned about the impact on the capital budget.
He said it could be cut by 37% and that half the money was already allocated.
"When you realise that half the budget is already committed to contracts, that means effectively wiping out almost the entire new build programme for the next four years and that will have a tremendous impact on the construction trade in NI," he warned.
Mr Wells said he was confident the proposed radiotherapy unit at Altnagelvin hospital would go ahead, however other projects may not survive the cuts.
"The Irish republic's government are providing some of the capital money for that, I suspect that will go ahead rather than lose that inward investment," he said.
"But larger projects such as the new maternity hospital in the Royal and the new hospital for Omagh, I have to say based on those figures, have no chance of going ahead within the next four years."
The Department of Finance anticipates that a total of £4bn will be taken out of the executive budget over the next four years.
That could mean the loss of up to 20,000 public sector jobs and that will also take money and jobs out of the private sector.
The Executive will discuss the full implications of the cuts on Friday.