C. diff figures 'had time delay', inquiry hears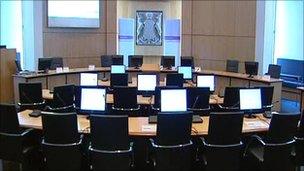 No proper C.diff surveillance was in place at the time of an outbreak in the Northern Health Trust, a public inquiry has heard.
An independent panel is reviewing an outbreak in Northern Trust hospitals between June 2007 and August 2008.
Medical director Dr Peter Flanagan said initially, infections were monitored using a manual reporting system.
He said there was a time lag between between cases being reported and the overall figures being collated.
The inquiry has established that 31 people died from the outbreak.
Between August 2007 and January 2008, with the exception of one month, Dr Flanagan said he was aware of a growing number of cases.
Dr Flanagan said on 15 October, three months before a formal declaration of the outbreak, an action plan was developed.
He said a Serious Adverse Incident report was sent to the Department of Health, which requested that a regional alert be issued about the 027 strain of the infection as this was the first time it had been identified in Northern Ireland.
While Dr Flanagan acknowledged the outbreak has served as a wake-up call to the local health system, he said it was an extremely stressful time for everyone involved.
Dr Flanagan said a particular area of concern for medical staff was the issue of the recording of C. diff infection on death certificates.
He said that while medical staff had been sent guidance on this issue from the chief medical officer, workers made a subjective decision in some cases whether or not to record it on a death certificate.
He said junior staff were advised not to make this decision alone but to always discuss the matter with senior medical staff.
During the outbreak, the General Register Office sent information regularly to the Northern Trust on death certificates registered at their office on which C. diff was recorded as either the cause of death or contributing to the death.
The Northern Trust's former chief executive is to give evidence to the inquiry later on Friday.
Norma Evans resigned from her post in June 2009 after the trust was turned down for additional government funding.
Related Internet Links
The BBC is not responsible for the content of external sites.