Mother of Paul Quinn appeals for information on her son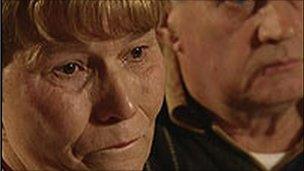 The mother of Paul Quinn, who was beaten to death in a shed in County Monaghan three years ago, has renewed her appeal for justice.
Speaking ahead of an anniversary mass in Cullyhanna on Friday night, Briege Quinn said she wants local people to come forward with information.
The 21-year-old was abducted and beaten by the IRA at farm buildings at Tullycoora near Oram in October 2007.
No-one has been charged with his murder.
Mrs Quinn said the attack on her son had been particularly violent.
"They broke every bone in his body, we couldn't even put a pair of rosary beads in his hand," she said.
"There's a lot of people who live around here, who know who done it and a lot of people who live round here have done it.
"I say to myself, why can they not, they don't have to come to us, they can go to the Gardai, the PSNI and clear their conscience."
Mr Quinn's family said he had been involved in a dispute with individual members of the IRA prior to his death.
His family said he had been "ordered to leave the country" but refused to do so.
Sinn Fein has denied republican involvement.