Judgement due in Fermanagh/South Tyrone vote dispute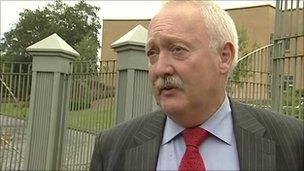 Judgement on a legal challenge to the general election result in Fermanagh and South Tyrone is expected later.
The case was brought by the unionist unity candidate Rodney Connor who lost to Sinn Fein's Michelle Gildernew by four votes after three recounts.
Mr Connor said there had been breaches of election rules and wanted the ballot recounted and the result overturned.
Following a three-day hearing in Dungannon last month, the number of disputed ballots was found to be three.
It had been initially claimed that 36 ballot papers should not have been counted
The election in May was the first time in Northern Ireland that counting of the votes took place overnight immediately after the close of polls.
Chief Electoral Officer Douglas Bain gave evidence that the count had not been rushed and he defended his decision not to allow a fourth recount.
The Lord Chief Justice will deliver the judgement in the Nisi Prius Courtroom at the Royal Courts of Justice at 1100 BST.
The Election Court will make a determination to the Speaker of the House of Commons which is deemed to be final.