Paterson surprised at Stormont cuts anger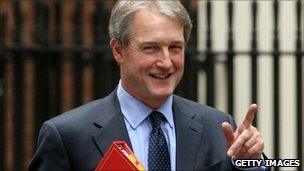 Northern Ireland Secretary Owen Paterson has said he is surprised by the reaction of Stormont politicians to the government's Spending Review.
The coalition has been accused of breaking promises of £18bn funding for NI made by Gordon Brown in 2007.
Mr Paterson said the capital fund had been reduced but they were otherwise "carrying on where he left off".
"David Cameron and I really have got the interests of Northern Ireland at heart," he said.
He cited the rescue money pledged to the collapsed Presbyterian Mutual Society, saying they had delivered "the exact formula asked of us".
Ministers from the Northern Ireland Executive are to meet on Friday to discuss what to do next.
"This is a team game and today the executive has got to sit down and work within the budget, as has every council and department across the UK," said Mr Paterson.
The Conservative minister said he was in favour of selling assets to raise money, but this was a decision for Stormont.
"The executive has some decisions to make today on the basis of a settlement which frankly is a lot, lot better than virtually every other department across the UK," he said.
"Is there a single person who doesn't think that if the executive sits down and works together, it can't save 1.7p in the pound in each of the next four years?"
Northern Ireland's Department of Finance is at odds with the Treasury over the extent of the cuts.
Stormont Finance Minister Sammy Wilson arrived at an overall figure of £4bn by taking annual reductions in the Northern Ireland grant in each of the next four years and adding them together
The Treasury says the cut is less than half of that - it arrives at its figure by comparing the NI grant for this financial year to what it will be in 2014/15.