'Whole community' needed to tackle suicide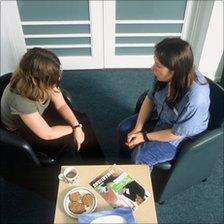 A parish priest in west Belfast has called on the whole community to come together to tackle the problem of suicide.
Father John Forsythe, of Christ the Redeemer in Lagmore, will say Requiem Mass at the funeral of Liam McGuinness later on Friday.
The 19-year-old amateur boxer took his own life earlier this week.
His death is believed to have been the tenth suicide in the Lagmore area in recent months.
Sinn Fein leader Gerry Adams said as many as 21 people have taken their own lives in the area this year.
Speaking to BBC Good Morning Ulster, Father Forsythe said there had been a 111% increase in suicide deaths in Northern Ireland.
"In 2005 there were 213 deaths, in 2006 there were 291, it's nearly equal to the road deaths. A quarter of all the deaths of young people between the ages of 15 and 34 are attributed to suicide," he said.
"What concerns me is that there seems to be a spike of it in west Belfast; in east Belfast and mid-Ulster it's very, very low."
Father Forsythe said suicide was an issue that needed to be looked at by the whole community.
"We need to look out for each other, we need to care for each other. We can't just watch young people standing under a bush in the middle of the evening drinking until two o'clock in the morning.
"Some of the things that will help are mixing with different religious backgrounds and respect for those who are asking for help. It's a multi-faceted thing, you cannot point at one magic bullet that will solve it."
Mr Adams, as the MP for West Belfast, has called on the health minister to ensure funding for suicide prevention in Northern Ireland is ring-fenced.
He described it as a "crisis" which needed action from the executive.
Related Internet Links
The BBC is not responsible for the content of external sites.