Popular NI photographer John Harrison dies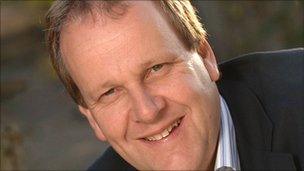 Tributes have been paid to leading NI press photographer John Harrison who died on Friday aged 50.
A popular figure among the national and international press corps, Mr Harrison had just returned from the United States where he was covering the economic conference in Washington.
He attended a function at Belfast's Europa Hotel late on Thursday where he made a presentation.
Mr Harrison was awarded the MBE in 2008 for services to photography.
He began what was to become a distinguished career in 1976 as junior photographer with the Ballymena Guardian where he was promoted to chief photographer three years later.
He became a staff member of the Belfast-based Pacemaker Press agency in 1983, leaving 11 years later to establish his own company, Harrison Photography, which specialised in public relations work.
First Minister Peter Robinson said Mr Harrison had documented "almost every seminal and important moment in Ulster's history over the last 20 years".
"John had a wonderful way with people and was always able to get the best out of those he was taking photos of," he said.
"I had lunch with John in Washington only two days ago and am deeply saddened by his passing."
Deputy First Minister Martin McGuinness said Mr Harrison was "quite simply a one-off in every way".
"Over many years he recorded the most iconic moments in our recent history," he said.
"He was not just a witness to these events however, but a friend and companion who travelled with us along the road."
Northern Ireland Secretary of State Owen Paterson said John Harrison had "a great talent" and was "a true professional".
"His warmth and engaging personality was the key to his immense success over the years. His passing leaves a huge loss to public life in Northern Ireland," he said.
Former Northern Ireland Secretary Shaun Woodward said Mr Harrison was "a really great guy" who was "hugely respected and admired by everyone he worked with".
Mr Harrison won many awards during his lengthy career and was several times chairman of the Northern Ireland Press Photographers Association.
SDLP leader Margaret Ritchie described Mr Harrison as a "vibrant, warm and wonderfully talented person" and said his death had "come as a terrible shock".
Former Ulster Unionist leader Sir Reg Empey said that he was 'shocked and saddened' by the news.
"He travelled the world with his work and was a marvellous ambassador for Northern Ireland. His enthusiasm, his zest for life and his genuine likeability will be very sorely missed," he said.
TUV leader Jim Allister said Mr Harrison's professional legacy was "immense" and the sense of loss in Ballymena, where his career had began was "huge".
Alan Lewis, the current chairman of the association, was a colleague and close friend of Mr Harrison.
"Everyone is just absolutely stunned, we are all absolutely devastated.
"There are not many things which shock me but when I heard the news this morning, my jaw just dropped open."
Mr Lewis said John Harrison was "no stranger to the Oval Office" in Washington.
"He had been there several times, both with President Clinton and President Obama.
"It's a measure of the regard he was held in that John was on first-name terms with security guys that you and I could never dream of meeting."
Describing his friend as "extremely hard-working," Mr Lewis said: "He never stopped and he was just so full of life, and it was infectious.
"He was a great photographer in his own right and a great human being," he said.
Related Internet Links
The BBC is not responsible for the content of external sites.