School first Catholic grammar to end selection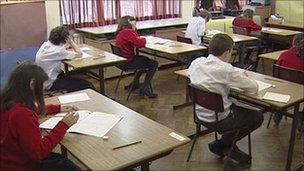 One of Northern Ireland's top performing Catholic grammar schools is abandoning academic selection.
Loreto College in Coleraine will move to admit children of all academic abilities from 2012 or 2013.
They will not be using an entrance exam at age 11 to decide which children they will select.
Principal Brian Lenehan said the school's board of governors believed it was the right decision.
He said the school was confident it would retain its high academic standards.
Under the new selection criteria, he said the school would be keen to retain its links with its traditional feeder primaries and the community.
The school is the first to choose voluntarily to end entrance testing.
It also become the first to respond positively to a call by the Catholic Church that all its grammar schools phase out 11-plus style exams.
The Catholic Principals' Association which represents primary and post-primary Catholic principals in NI has backed the school's decision.
CPA chair Seamus Quinn said: "Loreto has followed the moral and spiritual guidance provided by the Commission for Catholic Education (NICCE).
"Their decision is an important step and it directly challenges those claiming that Catholic schools are based upon rejection.
"All children are welcomed to experience academic excellence and personal fulfilment within Catholic schools.
"Rejection of any kind runs contrary to our Catholic ethos."
Related Internet Links
The BBC is not responsible for the content of external sites.