Belfast Metropolitan College to lay off 100 staff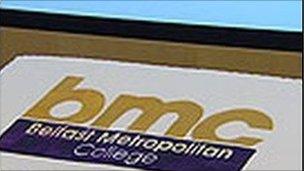 Belfast Metropolitan College (BMC) has announced it is making more than 100 redundancies.
It has entered a 90 day consultation and said it hopes most of the redundancies will be voluntary.
It is expected the lay-offs which will affect all parts of the organisation will be implemented within the next six to 18 months.
The college currently employs more than 1,000 staff.
Richard O'Rawe, Chair of the Governing Body at Belfast Metropolitan College said it was "regrettable" but essential to make the cuts.
"In order to secure Belfast Metropolitan College's future sustainability and development, it is essential to redesign the organisation to reflect its current and potential customer base," he said.
"The challenges for the college are further exacerbated by NI's current difficult economic conditions which will impact on public funding for some years to come and this increases the urgency with which the college must address and fix its problems."
Monica Goligher from the University and College Union (UCU) said she was concerned to hear about the redundancies.
"It would appear that it would be large numbers of lecturing posts and among administration and support staff across both sectors within the college," she said.
BMC has six campuses in Belfast.
Construction is well underway at a new site in the Titanic Quarter.
It is due to open in September 2011 and will replace outdated educational facilities.
A new building is also due to be constructed in north and west Belfast. It is scheduled to open in spring 2012.
Finance has already been secured for both projects.
An efficiency review was carried out at the college in 2009, by the Department for Employment and Learning (DEL).
BMC received criticisms in a wide range of areas and recommendations were made for improvements.
The college said it had produced an improvement plan which has been approved by DEL.
The plan will require BMC to address its financial position to ensure it has sufficient resources to carry out its work without compromising on quality.
The college has been running at a deficit for the past four years.