Newry man wins top business award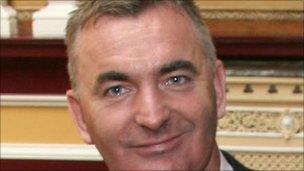 A Newry businessman is celebrating after being named as the Ernst & Young Entrepreneur of the Year at a ceremony in Dublin.
Brian Conlon, the founder and chief executive of First Derivatives plc, collected his prize from the Irish president Mary McAleese on Thursday night.
He will represent Ireland at the World Entrepreneur of the Year awards in Monte Carlo next June.
Founded by Mr Conlon in 1996, First Derivatives plc provides products and consulting services to the capital markets industry.
It trades on the London Stock Exchange and Irish Stock Exchange.
The firm's headquarters are in Newry, but it has operational bases in Europe, North America, Asia and Australia.
The company's clients include nine of the 10 largest US investment banks, 30 of the world's top hedge funds, two of the world's largest stock exchanges and three of the largest retail banks in South East Asia.
It now employs more than 450 people worldwide.
Frank O'Keeffe, partner-in-charge of the Ernst and Young Entrepreneur of the Year event said:"Brian Conlon has demonstrated exceptional entrepreneurial vision with an innovative and successful business model.
"He is at the forefront of Irish companies contributing to the new global economy."