Writer's memories of walking the Irish border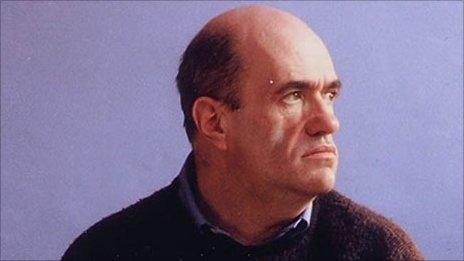 For writer Colm Toibin, the reopening of the last two bridges destroyed in the 1970s as part of the Army's campaign against the IRA, summon memories of a summer spent walking the border between Northern Ireland and the Republic.
In 1986 after the Anglo-Irish Agreement was signed, he donned walking books and spent July to September journeying from Derry to Carlingford.
His book: "Walking along the border" sounded a bit like a hiking bible.
But the content had little to do with mountain peaks and blisters.
It was a book about the politics of the time - a chance to talk to people living in border towns and villages: nationalists and unionists - to examine both mindsets, to capture what they were thinking and feeling.
It was a record of everyday lives - people's fears and prejudices.
"What I found was that in many places, the removal of the bridge was a token symbol," he said.
"There were other ways to cross. I would meet people and they would say: 'Ah sure, it isn't a problem for us, there is a way across."
But he found that at other places, like Lackey Bridge near Clones, the closure had more permanent effects.
"It cut people off from their neighbours. People from the north simply never came south. And there were a lot of killings because the killers would know how to get across and get away quickly."
But drawing the line of a border in red on a map is child's play: putting a hermetic seal on a country is not.
"I remember James Molyneaux (the Ulster Unionist leader) saying that the border should be sealed off. But how could that happen? As I was walking, there was no sense of it really - you were walking along and there was just a little loop in the road and that was in the north."
There were people whose houses were on the north/south border - they had, as locals might say, "a foot in both camps".
"One man's house straddled the border. He told me it wasn't a bother to him. The only bother he had was people like me asking did he sleep in the north or the south?"
But a distinct memory that Toibin carries with him is the kindness of a man called Alan Black, the only man to survive the Kingsmill massacre of 1976.
Protestant workmen on their way home from work were taken from a minibus and shot dead by republican paramilitaries in south Armagh. Ten of them died but Alan, who was badly wounded, survived.
"He was a very interesting man and he was terribly kind to me," said Toibin.
He also remembers vividly a funeral address in which the Rev Kille, a Church of Ireland minister, stood up and listed all those from Fermanagh who had been killed in the Troubles. The list of names, the toll of death, stayed with him.
But it was the poverty in the borderlands that also struck him.
"I met a woman in Strabane who had been hired out at a hiring fair," he said. He was surprised that the tradition of hiring out people for work had still been in place in recent history.
This week, the last of the bridges linking Northern Ireland and the Republic that were blown up and cratered by the Army in the 1970s to thwart the IRA were reopened.
There was rejoicing as Annaghroe and Knockaginny bridges - between Glaslough, County Monaghan and Caledon, County Tyrone were officially reopened.
The days of division seemed past.
Since 2002, more than 100 cross border roads have been reopened.
It was a day for celebration - a historic occasion to mark the end of an era.
Colm Toibin did revisit his border walk- he made a radio programme after the first ceasefire. But that had to be delayed for a while in 1996, when that ceasefire didn't stick.
And he revisited his original book. He had never liked the title: "Walking along the border," he said.
It was "too clunky" and sounded too much like a travel book.
The new title is Bad Blood: A Walk Along the Irish Border. It was never a walking book, it was always a political book.
And as the last of the 100 border roads and bridges echo to footfalls again, the history of the borderlands will be written on a new, white page.