Green party delegates attend annual conference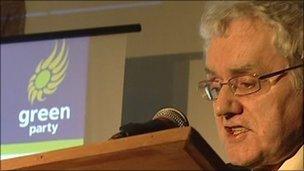 The Green Party held its annual general conference at Ballydugan Mill in Downpatrick on Saturday.
Delegates discussed proposed cuts in public spending, the threat from dissident republicans and changes to party funding.
The proposed removal of the cap on student fees was also debated. The party has said it will result in a two tier education system if it is removed.
The party has one assembly member and three councillors.
Assembly member Brian Wilson told party members at the conference that planned public expenditure cuts are going to be introduced too soon.
Mr Wilson said the Northern Ireland economy is fragile and politicians at Stormont should delay budget cuts for as long as possible.
"We're in danger of going into a double dip recession and that's my concern," he said.
"Northern Ireland is even worse than the rest of the United Kingdom and we are going to suffer more.
"We've got to argue that at the present time the last thing we need are these cuts."
Related Internet Links
The BBC is not responsible for the content of external sites.