Skimming device found on Banbridge ATM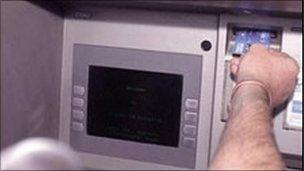 A suspected skimming device has been recovered from a cash machine in Banbridge.
It was found on an ATM at a convenience shop on the Lurgan Road in the town shortly after 0800 BST on Saturday.
It is the second time in under a fortnight that such a device has been found on a cash machine in Banbridge.
What police described as a sophisticated skimming device was found on an Alliance and Leicester machine in Newry Street on 9 October.