Unions to meet over BMC job cuts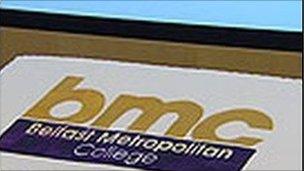 Unions are planning to hold an emergency meeting following the announcement that over 100 jobs are to go at the Belfast Metropolitan College (BMC).
The college said it has been running at a deficit for four years and that it intends for the redundancies to be achieved on a voluntary basis.
The college has six campuses across the city and employs over 1000 people.
It said it hopes most of the redundancies will be voluntary.
It is expected the lay-offs which will affect all parts of the organisation will be implemented within the next six to 18 months.
Construction is well underway at a new site in the Titanic Quarter.
It is due to open in September 2011 and will replace outdated educational facilities.
A new building is also due to be constructed in north west Belfast. It is scheduled to open in spring 2012.
Finance has already been secured for both projects.