NI Assembly holds special debate on Spending Review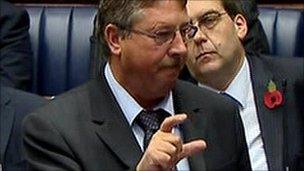 Politicians who want the Spending Review changed to suit Northern Ireland are "living in cloud-cuckoo land", Finance Minister Sammy Wilson has said.
He was speaking at a special debate at Stormont to discuss how the review will affect Northern Ireland.
Mr Wilson said any such move by Chancellor George Osborne would "just send all the money markets he has been trying to calm into a flurry".
The DUP minister poured scorn on a Sinn Fein plan for possible £1.9bn savings.
His attack on the party's suggestions, which included taxing mobile phone operators £2,000 a month for each mast to raise £160m over four years, was described by Sinn Fein's John O'Dowd as "quite disgraceful".
While all parties expressed concern about the Spending Review, there was a marked difference in attitudes towards dealing with forthcoming cuts.
Nationalist parties emphasised the need for resisting the cuts while unionists maintained the situation had to be dealt with.
The assembly was recalled from its Halloween break for a special sitting after Sinn Fein and the SDLP tabled a joint motion to debate the cuts, saying the most "vulnerable in society" will be hit the hardest.
The motion was passed unanimously after all parties accepted DUP and Ulster Unionist amendments calling for a collective approach and stressing the need to agree a budget.
Mr Wilson believes Northern Ireland will have to make savings of £4bn over four years and said local parties had to be realistic.
He said a budget needed to be in place by January.
"That means that the executive have to agree a budget within the next couple of weeks, get it through the statutory process of consultation and then get it here on the floor of the assembly for debate and for decision," he said.
"If we don't do that, we will be failing in our duty."
Sinn Fein president Gerry Adams called on parties to set aside their differences and send out "a united message".
"Let us focus on the assault by that government on public services, on lower and middle income families, on people on social welfare, and on the most vulnerable sections of our people," he said.
Mr Adams said the cuts would "decimate" public services and hit the poor "10 times harder than the wealthy".
He said there was "a positive and achievable alternative to the Tory slash-and-burn approach".
"Let us get a positive consensus on that and agree on practical steps so that the executive can take the lead in the fight back and in mapping out a better way forward for those who depend upon us most," he added.
The first and deputy first ministers have requested a meeting with Prime Minister David Cameron to discuss the cuts and to seek assurances over £18bn of funding for NI made by his predecessor Gordon Brown in 2007.
First Minister Peter Robinson again accused the coalition government of breaking promises over the funding.
The DUP leader told the assembly the £18bn figure was arrived at before policing and justice powers were devolved from Westminster to Stormont, and there should in fact be more money made available to cover this cost.
Ministers from the Northern Ireland Executive are expected to meet this week to discuss the Spending Review in further detail.
Northern Ireland's Department of Finance is at odds with the Treasury over the extent of the cuts.
Finance Minister Sammy Wilson arrived at an overall figure of £4bn by taking annual reductions in the Northern Ireland grant in each of the next four years and adding them together
The Treasury said the cut is less than half of that - it arrives at its figure by comparing the Northern Ireland grant for this financial year to what it will be in 2014/15.