106 software jobs being created by US company in Newry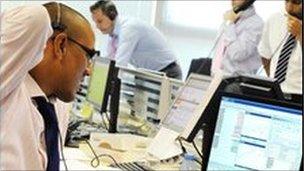 More than 100 jobs are to be created by a US technology company in Newry.
Philadelphia-based firm Market Resource Partners (MRP) is developing software that will assist companies in their marketing and sales.
It was bought over by Newry-based company First Derivatives two years ago.
Over the next three years, MRP will recruit 106 new workers to be based in the Quays complex in the city.
The marketing and consulting firm said the new jobs would be high-quality, paying salaries above the private sector average.
All of the jobs are expected to be filled by 2013.
The industrial support agency, Invest NI, is giving the firm almost £850,000.
MRP founder Kevin Cunningham said: "We work with technology companies in the States and we help them find new business opportunities in companies across the US.
"We wanted to leverage Northern Ireland as the springboard for our European operations and our global centre of excellence.
"We're looking for recent university graduates and those with prior technology sales and marketing experience."
Mr Cunningham said Northern Ireland was "attractive for many reasons".
"The well-educated workforce was really key to us coming here," he said.
"The other real key was the support Invest Northern Ireland gave us.
"Without that support, we would not have been able to establish this presence here."
US Economic Envoy to Northern Ireland, Declan Kelly, said American companies had created 250 jobs in Northern Ireland in the last month.
"Once again, we see a company with US operations looking to Northern Ireland as a strategic location for global expansion because of all the advantages the region offers, including location, low operating costs and access to a high-quality workforce," he said.
Local Sinn Fein MP Conor Murphy said: "This is very welcome news for Newry, particularly during this bleak economic climate, and confirms Newry as an excellent location for inward investment."
Related Internet Links
The BBC is not responsible for the content of external sites.