Northern Ireland tops for shooting and fishing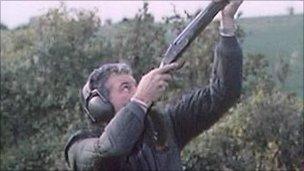 Field sports tourism forms a small but relatively lucrative part of Northern Ireland's overall tourism market.
Of the three million people who visited the area last year, just 4,000 came specifically on organised field sports packages, according to Northern Ireland Tourist Board estimates.
An unrecorded number of others, however, like the victims of the helicopter tragedy, come as private guests to hunt and fish at the invitation of land-owners.
Counties Fermanagh and Tyrone are the most popular areas with fields sports tourists for fishing and shooting.
Depending on the season, woodcock, pheasant and snipe shooting takes place on several estates.
Other packages include stalking and shooting of Sika, Fallow and Red deer.
Field sports are also popular with corporate groups who combine business conferences and meetings with shooting and angling.
Package organisers will often offer help with permits and paperwork to tourists who want to bring their own guns.
Some estates, however, will rent shotguns and rifles to visiting sportsmen and sportswomen on condition they bring proof of ownership of a weapon or hunting permit, and have insurance.
Enthusiasts can also take part in clay pigeon shooting and pike fishing or take fly-fishing lessons.