C.difficile outbreak 'dealt with well' - ex Trust boss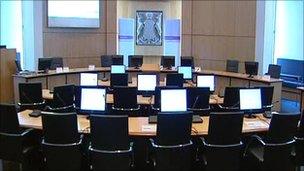 A former interim chief executive of the Northern Health Trust has said that the C.diff outbreak was dealt with well given the pressure staff were under.
Colm Donaghy told an inquiry into the outbreak that he believed the trust still had a good reputation.
Thirty-one people died as a result of the outbreak in the trust area between June 2007 and August 2008.
The inquiry at Antrim Civic Centre has previously heard strong criticism of medical professionals and management.
Mr Donaghy was appointed the interim chief executive of the trust in 2009, following the resignation of Norma Evans, who was in charge during the outbreak.
Last month, he took up a new role of chief executive of the Belfast Health Trust.
Giving evidence at the start of the fourth week of hearings, Mr Donaghy also told the inquiry that spending cuts are not expected to affect a proposed expansion to the "inadequate" A&E at Antrim.
He said he understood the cash had already been set aside.
He added that in the early stages of the outbreak, there were issues relating to storage and that the hospital had a lower budget for cleaning compared to other hospitals in Northern Ireland.
He said that funding had now been secured in order to deal with the shortfall.
Cleaning staff now take part in a training scheme accredited by the British Institute of Cleaning Science, he added.
There were also systems in place to make infection control "everyone's business".
He said the lessons learned in the trust had impacted on other hospitals in Northern Ireland, resulting in strict antibiotic prescribing controls, spot audits on hand hygiene as well as weekly and monthly briefings about procedures.
Media attention had made staff "demoralised" and feel as though they were "the victims of the story", he added.
Also giving evidence on Monday was Dr Lisa Langley, who took part in an audit on hand hygience among doctors at all levels in Antrim Area Hospital and the Mid-Ulster Hospital during June and July 2008.
She said the results showed overall poor compliance with hand hygiene, particularly amongst senior medical staff.
However, she added that new measures had been brought in following the outbreak and these were being adhered to, including the "very strict" antibiotic prescribing policy.
Related Internet Links
The BBC is not responsible for the content of external sites.