MLA Burns attacks sex offence sentencing statistics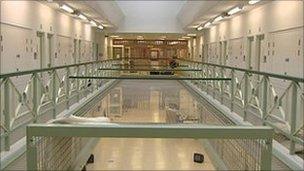 New figures reveal that just seven out of 626 people convicted of sex offences between 2002 and 2006 were jailed for the maximum term available.
The statistics also show that during the same period, almost 3,000 people were convicted of burglary but only 16 were given the maximum sentence.
SDLP MLA Thomas Burns, who obtained the figures, said it was evidence of a "softly, softly approach".
The Department of Justice said sentencing was a matter for judges.
The figures refer to both offences heard in the Magistrates Court - known as summary offences - and indictable offences which are heard in the Crown Court.
Between 2002 and 2006, the last year for which the Department of Justice has collated figures, only one convicted rapist out of 57 was given the maximum life term.
The other offences for which maximum terms were handed down were three convictions for indecent assault on a female, two for gross indecency with a child, and one for unlawful carnal knowledge of a girl under the age of 17.
All but one of those cases was heard in the Magistrates Court.
During the five-year period, 66 people were convicted of offences relating to images of children being sexually abused.
None were given the maximum sentence for their crime.
The longest terms available for those convicted of taking and distributing indecent images in 2006 was ten years for an offence heard in the Crown Court and six months for a summary offence.
Mr Burns said the figures, obtained through an Assembly question, showed a lack of a strong deterrent in the system.
He added: "For victims of sex crimes, it is often very difficult to come forward.
"And at the end, when the perpetrators come out with light sentences, it is very difficult.
"The victims may wonder if it was all worth it and the situation may deter others from coming forward."
He added that judges seemed to be under pressure to combat overcrowding in prisons by trying to keep people out of them.
"It costs a lot of money to keep people in jail, but where do you put these people? You cannot have a whole society breaking down," the SDLP MLA said.
2,906 burglars were convicted between 2002 and 2006.
The 16 maximum sentences handed down were all for offences heard in the Magistrates Court.
The Crown Court did not hand out any maximum terms.
Maximum sentences for burglary offences range from life for aggravated burglaries - those carried out with the use of a weapon - to three years for those convicted of going equipped for burglary.
A spokesperson for the Department of Justice said it was seeking the public's views on sentencing through a public consultation.
He added that statistics on court disposals of these sentences from 2006 onwards is currently being compiled.
Related Internet Links
The BBC is not responsible for the content of external sites.