Burglars beat man and stole valuable Chihuahua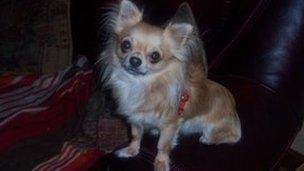 A 50-year-old man was attacked and beaten after disturbing burglars at his home in County Tyrone.
Allan Lockhart was injured when three men armed with a sledgehammer and a crowbar robbed the house on Carnteel Road near Aughnacloy on Monday.
They stole money, jewellery and the family's valuable pet Chihuahua.
The family have offered a reward for the return of the dog which is called 'Bruce'.
Mr Lockhart's son Steven said his father suffered bruising on his arm and a cut eye after the robbers attacked him.
He believes the robbery was one of a number in the area.
"They took mum and dad's wedding ring and a wee bit of money," he said.
"But the thing that has really vexed them is that they have taken the wee house dog called Bruce and it's that, that has really upset them."
Local DUP MLA Lord Morrow has condemned the buglary.
"The belief is that these robberies are 'on demand burglaries' where robbers are stealing to meet orders," he said.
"These are clearly sophisticated criminals who are not afraid to use extreme force when it is needed."