Rioting in loyalist Rathcoole 'serious', say police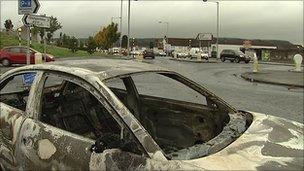 Police were faced with a "serious" rioting situation in Newtownabbey involving more than 200 youths on Monday, a detective has said.
At least six cars and a bus were burnt out and stones thrown at police vehicles in the Rathcoole estate after trouble broke out at about 2030 BST.
A bus driver was treated in hospital for a facial injury after being attacked by masked men.
It followed a number of earlier police raids in the mainly loyalist area.
A policeman rejected claims the raids were heavy-handed, saying there was "no sense or reason for the violence".
Chief Superintendent Henry Irvine said: "Whenever the PSNI are carrying out searches and going about their lawful business, there's no reason for this reaction."
The PSNI said the searches were part of Operation Stafford, an ongoing serious crime branch investigation into a series of murders and other crimes by the UVF in north Belfast.
At the end of last year, the PSNI took on the investigation from the Historical Enquiries Team (HET).
A quantity of suspected cannabis was seized during the searches. A 34-year-old man was arrested. He has since been released pending further enquiries.
Ken Wilkinson, a representative of the UVF-linked Progressive Unionist Party, said he understood the trouble was linked to three police raids in the area over the past two days.
He said that "the way a lot of these searches were carried out leaves a lot to be desired", adding that one of the houses raided belonged to a lady in bad health.
However, Chief Supt Irvine said he rejected "any suggestion that police officers operated anything other than professionally".
"It's a sad reflection on any community where police can't go about their business without being attacked like this," he said.
Mr Wilkinson said the trouble had been flagged up online.
"It was on Facebook last night and yesterday afternoon, about young people telling other people to congregate," he said.
"We went and approached young people last night and put ourselves at risk.
"I spoke to some of the young people on the ground and I appealed to them not to partake in what was going on and they went away."
A bus and at least six cars were hijacked and burnt out. A number of police cars were also damaged.
Unite union representative Michael Dornan said he had spoken to the bus driver, who was "traumatised and in shock" following his "horrific ordeal".
"When we become bus drivers, we're professionally trained in how to deal with a hijacking situation," he said.
"I have no doubt he would have complied with any demand and would never have resisted, yet he was still severely beaten."
Mr Dornan said the driver had suffered facial injuries after masked men forced him off his bus. He was treated in hospital for his injuries.
A Translink spokesman said: "We strongly condemn this attack and appeal for any information to be passed over to the PSNI."
The Mayor of Newtownabbey, Alderman Paula Bradley said the "violence was an absolute disgrace".
"A minority of people is causing havoc and it's the whole community who suffers," she said.
"I would appeal to those involved to stop and think about the effect this is having on their families, neighbours and friends."
Police said they worked with community representatives to restore calm to the area by 0045 BST.