NI motorists hit with highest premiums across the UK
By Natalie Lindo
BBC News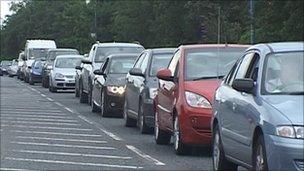 Northern Ireland motorists pay more for their car insurance than the rest of the UK, a new report has revealed.
The Consumer Council survey found drivers in Northern Ireland paid an extra £287 on average.
The highest price was found in Newry, followed by Londonderry, Armagh and Belfast.
The report also suggested that by shopping around for better deals, drivers could save as much as £260, bringing prices almost in line with GB.
According to the report, the five Northern Ireland cities rank amongst the "top ten" highest average premiums in cities across the UK.
Northern Ireland has the highest median car insurance rate in the UK, followed by Greater London, the north west and the West Midlands.
The report said the Northern Ireland car insurance market was affected by consumer inertia and higher premium costs.
The report also found that a lack of competitiveness in the local insurance market meant drivers in Northern Ireland were paying more.
The 10 most expensive cities to insure a car across the UK are:
Newry
Londonderry
Armagh
London (east)
Belfast
Illford
Liverpool
London (north west)
London (west)
Lisburn
A unusually high level of insurance payouts also means motorist pay for higher premiums.
Compared to England and Wales, compensation payments account for half of the total costs of claims in Northern Ireland.
Payments to claimants' solicitors and barristers amount to about £1m per year.
According to the Association of British Insurers, the disproportionately high legal cost in NI is because road accidents are excluded from the small claims court.
Having even the most straightforward claim taken to the county court means costs can increase by more than £350 per case, a cost which is then added on to premiums.
One idea is to allow claims cases to be dealt with in the small claims court, in turn reducing premiums for everyone in Northern Ireland.
In terms of compensation for accidents, a minor whiplash claim in England and Wales ranges between £200 and £500 but in Northern Ireland it can be up to £8,000.
On the whole it appears higher insurance premiums in Northern Ireland are not due to higher crime rates or lower competition levels.
Earlier this month, the Committee for Finance and Personnel received a briefing from the assembly's research department on the cost of insurance.
The committee agreed that further research would be commissioned.