Delay over autism diagnosis in NI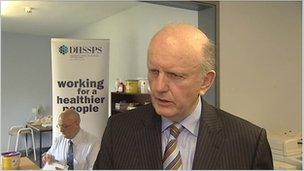 Almost half the children in the queue for autism diagnosis have been waiting longer than the government's 13-week target time, partly because of a "significant rise" in referrals over the past year. BBC NI Spotlight reporter Julian O'Neill reports...
New figures from the Department of Health reveal 291 children in Northern Ireland have been delayed beyond the target and that suspected new cases rose by 38% in the 12 months to September.
Health Minister Michael McGimpsey said he hoped all Health and Social Care Trusts would be meeting the target by next March.
The battle for improvement comes amidst friction between the charity Autism NI and one of the key supporters of the Department of Health's strategy, Ken Maginnis, the House of Lords peer.
The charity interprets an email written by Lord Maginnis to the department three weeks ago was a "threat" to its funding.
According to up-to-date Government figures, it received £320,000 in core and project funding in 2008/9 from the Department of Health and trusts.
Lord Maginnis complained of the charity's "persistently obstructive attitude" - something it has denied - and asked whether it should function "independently of any formal provision."
But he told the BBC's Spotlight programme: "I am not knocking the minister's door saying don't fund that organisation."
A rift has grown over Autism NI's lobbying for an Autism Bill at Stormont, which faces continued opposition from the department, which has placed its faith in an alternative action plan.
The Bill, if passed, would make autism a disability, opening a door to benefits for many who currently miss out and, according to the charity, improve care provision.
Human Rights lawyer Brice Dickson told the programme the proposed legislation could be problematic.
"Autism is a very wide spectrum and to say that everyone who has autistic tendencies is disabled… would be going I think probably too far."
The department has argued the cost of introducing legislation would be money better spent on front line services, such as attacking the waiting list.