Irish company granted exploration licence over Rathlin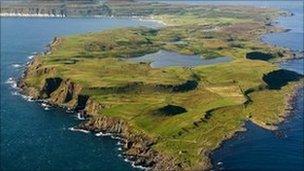 An Irish oil and gas exploration and production company has been offered a petroleum exploration licence over Rathlin Island in Northern Ireland.
The Department of Enterprise, Trade and Investment in NI has granted Providence a five year licence, following a recent application by the company.
The firm will carry out a number of technical studies to determine petroleum potential.
Some oil was recovered during testing.
The initial licence term is for five years with a decision on a well commitment required within three years.
Providence has committed to carry out a number of technical studies of the subsurface geology during the first three years to determine the petroleum potential and inform the decision on the well commitment.
The company's chief executive, Tony O'Reilly said "we are delighted to be offered our first exploration licence in Northern Ireland.
"Providence has a clear corporate focus to evaluate the hydrocarbon potential of the island of Ireland and this new licence over Rathlin complements our substantial Atlantic Margin and Irish Sea acreage portfolio."
Technical Director of Providence, John O'Sullivan said earlier tests had been encouraging.
"The oil exploration potential of the Rathlin Basin was highlighted by the onshore 2008 Ballinlea-1 well, which encountered hydrocarbon shows and recovered some oil during testing," he said.
"We interpret this well to have been drilled on the margin of the basin which extends and deepens towards Rathlin.
"The potential under Rathlin Island itself is of interest as this location is interpreted to directly overlie the most mature and potentially most productive part of the basin."
Providence will operate the licence with a 100% equity interest.
The company's oil and gas portfolio includes interests in Ireland (offshore), the United Kingdom (onshore and offshore), the United States (offshore) and West Africa (offshore Nigeria).