Prisoners tuck in to a range of goods in their shop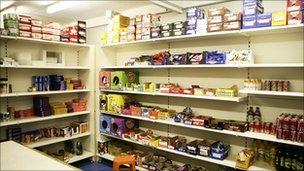 The tuck shop menus of Northern Ireland's three prisons have been posted on the Assembly's research website.
As well as the usual fare of sweets, crisps and drinks that you would expect to find, prisoners are able to buy a range of other items not on sale at more conventional tuck shops.
At Maghaberry, prisoners can buy a digital freeview box for £35.95, Sennheiser headphones for £19.70 and a PS2 memory card for £14.99.
A similar range of items are on sale at Hydebank Wood.
Unfortunately for prisoners at Magilligan, the choice is limited to blank cassette tapes and a remote control.
Health conscious prisoners are able to buy a range of vitamins and health shakes.
A range of handicrafts, such as paint brushes, glue and brass screws, are also available for prisoners to purchase.
All the tuck shops also sell a selection of washing powders and fabric softeners, as well as a wide range of toiletries.
Super Noodles, digestive biscuits and Bisto gravy granules are among the large selection of grocery items on the lists.
There is no excuse for prisoners at Hydebank and Magilligan to forget their loved ones' birthdays.
A range of greeting cards is available for £1.
They did not appear on the list for Maghaberry but perhaps prisoners can make up for not sending cards by buying a box of Thornton's chocolates at £6.50 for visiting relatives.
Prisoners who have not managed to kick their smoking habit can buy tobacco and cigarettes.
Both products are priced similar to what you would pay on the outside.
Bird lovers in Maghaberry can also buy budgie and canary seed to feed their feathered friends.
The Maghaberry tuck shop is usually open from Monday to Friday and is run by prison staff and six inmates.
The contract to stock the tuck shop is tendered out and the prison adds 10% to the cost prices.
So how much money do the prisoners have to spend in the tuck shop?
That depends on the amount of cash they have in their account, which is made up from their earnings, plus any money sent from outside, the total of which is not allowed to exceed £500.
Northern Ireland's prisoners have a wide variety of choice in their tuck shops, and the prices for many items seem comparable with what they would pay on the outside.
Unfortunately life on the inside means the prisoners cannot avail of the offers in our supermarkets, unlike those of us on the outside.