Making Connections festival to let listeners see radio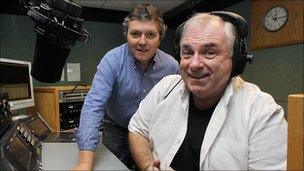 Radio fans are to get an unprecedented look behind the scenes of some of the most popular RTE and BBC radio programmes.
The broadcasters have teamed up for 'Making Connections' a festival celebrating all things AM to FM with a little touch of DAB.
The free festival starts this Thursday, 28 October and runs until Saturday, 29 October.
Visitors will be able to meet presenters such as BBC Radio 1's Greg James, RTE Lyric FM's George Hamilton, along with Stephen Nolan, Gerry Anderson, Hugo Duncan and Wendy Austin from BBC Radio Ulster.
The presenters will all be broadcasting their programmes live from the festival.
BBC Radio 4's Front Row programme will also go out live from BBC Blackstaff Studio in Belfast.
Listeners can take part in a range of interactive activities from practicing their received pronunciation reading news bulletins to having a go at radio drama.
The BBC's Blackstaff Studios will be transformed into a broadcast and exhibition centre for the event hosted by BBC Northern Ireland and RTE.
The shows will also be bringing along an eclectic mix of guests over the two-day festival.
Scouting for Girls will be entertaining Greg James, while writer Colin Bateman will join Front Row and Horse It Into Ya, Cynthia singer Conal Gallen will stop by for a chat with Hugo Duncan.
BBC Radio 1 DJ Greg James said he was "really looking forward" to returning to Belfast.
"I always have a great time in Northern Ireland and it's exciting to be part of the Festival of Radio," he said.
As well as the opportunity to see as well as hear your favourite radio programmes and getting a glimpse of the behind-the-scenes action involved in producing a live radio show, visitors can grab a chat with the presenters and get advice on how to get the most from their radio listening.
The festival will showcase all of the latest radio technology.
There will also be a video pod where visitors can be put in the hot seat as the voice of Stephen Nolan quizzes them on their radio listening habits.
With over 20 exhibits, including a specially-commissioned display about the history of BBC radio, this free event should have something of interest for everyone.
Making Connections: a Festival of Radio will run alongside the European Broadcasting Union's Digital Radio Conference 2010 which will also take place in Belfast.
Related Internet Links
The BBC is not responsible for the content of external sites.