£100,000 contract for Tyrone equipment manufacturer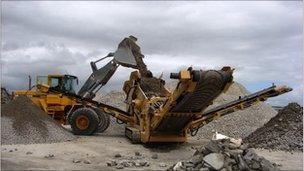 A County Tyrone company has won a contract worth £100,000 in Kurdistan.
Anaconda Equipment International employs around 30 people specialising in the design and manufacture of equipment for the mining, quarrying and waste recycling industries.
It concentrates on exports to markets outside the UK and Ireland.
The company was set up in 2005 by local entrepreneurs Alistair Forsyth and Martin Quinn, under the name Quality Fabrications.
It was renamed Anaconda Equipment last year.
Sales director Con Gallagher said the contract in Kurdistan was the company's first in the Iraqi region.
"It's very encouraging," Mr Gallagher said. "We have had quite a good year this year, particularly in the Australian market. The US, on the other hand, is still very tough.
"A lot of money earmarked for construction projects just hasn't materialised."
Anaconda recently sent a shipment of products to Sierra Leone, in west Africa. They were part of a consignment of crushers, screens and conveyors purchased by an Australian company working in the region.
In August the company sent the first of ten mobile conveyors to Iraq. They will be used to stockpile sand and aggregate products.
It was the first time Anaconda had exported its products into the Iraq market.
Mr Gallagher said that within the past week, they had also signed an agreement with an agent in India to market their products and build their profile in that part of the world.
"It's a market we will be concentrating our efforts on next year," he said. "We will also be looking at South America, and Brazil in particular.
"We are optimistic that with the launch of new product lines early next year, 2011 will prove to be another good year for the company."
Related Internet Links
The BBC is not responsible for the content of external sites.