£3m loan for Belfast Blackstaff House property deal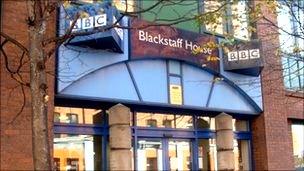 Barclays Corporate has announced a £3m loan to two businessmen to help with the purchase of a prime building in Belfast city centre.
Edward and Patrick Simpson, whose interests include Benedicts Hotel, have received the funding to buy Blackstaff House in Great Victoria Street.
The building is currently leased to the BBC.
The deal is one of the few locally funded commercial property transactions to take place this year.
Gavin Campbell, relationship director at Barclays Corporate, said it showed the bank's attitude to quality transactions.
He added: "It is a good example of the type of strategic and innovative transactions that are possible despite difficult market conditions."
Business advisors BDO were also involved in the deal.
The company's tax partner Sean Lavery said that the sale demonstrated that there were people who were ready to move when a suitable property came on to the market.
"The economy has been through tough times recently but this transaction is a demonstration of the confidence that still exists in the market for prime real estate deals."
Edmund Simpson said that he and his partner had been keen to diversify their investment portfolio through prime property investments.
It is not envisaged that there will be any change of use in the property as it is expected that the BBC will remain as long-term tenants.
Meanwhile, the Braidwater retail park in Ballymena has been placed on the market with a £27.4m price tag.
The development, which is anchored by a Sainsburys supermarket, is owned by Corbo Properties.
Corbo, which is controlled by Ballymena businessman Sam Morrison, has made a series of sales in recent months.
The firm has said it is building up a "war chest" for purchases across Britain.
Related Internet Links
The BBC is not responsible for the content of external sites.