From Saddleworth Moor to Waterfoot beach
By Mark Simpson
BBC Ireland Correspondent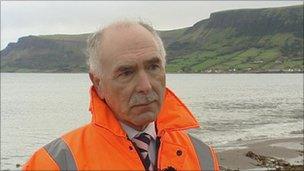 The retired detective leading the coastline search for republican murder victim Peter Wilson was also involved in the search for the bodies of the Moors murder victims in England.
Geoff Knupfer served with Greater Manchester Police for 30 years before becoming a senior investigator in the search for Northern Ireland's so-called 'disappeared'.
In the 1980s, Mr Knupfer helped to lead the search for the bodies of the victims of the Moors murderers, Ian Brady and Myra Hindley.
He also heard Hindley's confessions to a number of the murders.
Brady and Hindley buried the bodies of their young victims on the remote Saddleworth Moor, between Manchester and Leeds, in the early 1960s.
The body of one of their victims, 12-year-old Keith Bennett, has never been found.
Mr Knupfer, a retired detective chief superintendent, has been working on a number of the 'disappeared' cases in recent years.
He is now in charge of the search in County Antrim for the remains of 21-year-old Belfast man Peter Wilson, who died in August 1973.
The IRA was accused of killing him, but until now there were no clues as to where his remains were buried.
Mr Knupfer and his team from the Independent Commission for the Location of Victims' Remains recently received a tip-off, and are now carrying out an inch-by-inch search of the north end of the beach at Waterfoot in County Antrim.
Speaking at the digging site, he reflected on the search for the Moors murder victims.
He told the BBC: "The desire of the families is absolutely clear in all of these cases. They want closure, and they want somewhere to grieve. They want a Christian burial - and a grave to visit."
Techniques have improved since the 1980s when he was involved in the search for the Saddleworth Moor victims.
"Those really were the early days of using archaeology as an investigative tool in the UK," he said.
"We have learned an awful lot in the intervening period.
"As someone once admirably described it, we're not looking for museum exhibits. We're actually looking for human remains to return to a family."
The process now involves ground-penetrating radar, forensic archaeology, geophysics and geochemistry.
Readings and measurements from the beach at Waterfoot are being fed into a computer network which analyses the data, and tries to pinpoint the best places to dig.
Under Geoff Knupfer's instructions, full-scale digging of the site will not begin until the initial assessment of the area is completed next week.
The family of Peter Wilson have been told that the process could be quick or take a very long time.
And just like the family of Keith Bennett in England, they know it could all end in huge disappointment.
Nonetheless, the presence of an experienced investigator like Geoff Knupfer has given them grounds for hope.