Sir Reg Empey steps down as minister in UUP reshuffle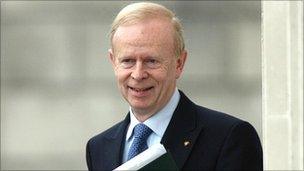 Sir Reg Empey is to be replaced by Danny Kennedy as Minister for Employment in a reshuffle of the Ulster Unionist party's assembly team.
Announcing details of the changes, party leader Tom Elliott confirmed that Mr Kennedy will take up the ministerial post.
He in turn will be replaced as UUP deputy leader by South Down MLA John McCallister.
Mr Elliott paid tribute to Sir Reg's work as employment minister.
On Wednesday, Mr Kennedy said that he looked forward to the challenges of his new role.
He said: "As we enter an extremely difficult financial period, I am committed to working with my Executive colleagues to ensure that we make the most of the resources available to us now and for the future."
Mr Elliott said: "I am extremely grateful to all my colleagues for their hard work across all portfolios, and know that they will continue to do so in the best interests of Northern Ireland."
Sir Reg Empey had announced he would quit as Ulster Unionist leader in the aftermath of a disastrous general election in May which left the party with no MPs.
Sir Reg will now take over from Mr Elliott on the justice committee.
David McNarry has been appointed justice spokesman while Danny Kinahan is the new spokesman on the environment.
Among other changes announced Danny Kinahan will join the committee for OFMDFM. He will be replaced by Billy Armstrong on the Regional Development committee.
Related Internet Links
The BBC is not responsible for the content of external sites.