First Derivatives reports rise in profits
By Eddie O'Gorman
BBC NI business reporter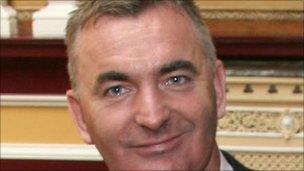 The Newry company First Derivatives has announced its results for the six months to the end of August.
Turnover is up 56% to £17.7m, and pre-tax profits are also up, by 6%, to £3.2m.
The company employs move than 500 people in offices throughout the world.
This includes about 300 at its head office in Newry, providing financial software products to many of the world's top investment banks, brokers and hedge funds.
On Monday, the company announced that it was creating more than 100 jobs in Newry in order to set up a European base for its Philadelphia-based subsidiary Market Research Partners.
First Derivatives founder and managing director Brian Conlon said that the company had continued to grow across all its divisions.
Mr Conlon said: "We have added a number of software products, entered a number of new markets, and made some key acquisitions.
"So the company is now well positioned for continued growth in the future."
Last week, Mr Conlon was named the Ernst & Young Entrepreneur of the Year at an awards ceremony in Dublin.
The award was presented by the President of Ireland, Mary McAleese.
First Derivatives is a public company which is quoted on the London and Dublin Stock Exchanges.
Its head office, and its research and development centre is in Newry.
The company's clients include nine of the 10 largest US investment banks, 30 of the world's top hedge funds, two of the world's largest Stock Exchanges and three of the largest retail banks in South East Asia.