Launch of new Belfast park and ride scheme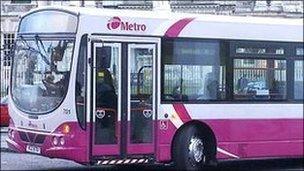 A dedicated bus service for a new park and ride site in south Belfast is to begin on 1 November.
The department of Regional Development spent 8 million pounds developing the site on the A24 at Cairnshill which was completed in July.
Since then the site has operated effectively as a car park pending the appointment of a bus operator.
Translink will now provide the service which will take commuters into Belfast City Centre.
It will operate every 15 minutes between 0700 BST and 1900 BST Monday - Friday.
According to Translink, a return ticket will cost £2.20 based on Smartlink fare prices.
The Cairnshill Park and Ride site offers 700 free parking spaces.
Translink Group Chief Executive Catherine Mason said "not only is parking free at the site but the park and ride service costs just £2.20 a day using a Translink Smartlink card.
"Therefore, a working week's total travel expenses could be as low as £11-huge savings compared to driving and city centre parking."
The service will have stops at College Green, Bedford Street and the Europa Buscentre on the inward journey and will stop at Adelaide Street, Dublin Road and College Green on the return journey.
The new and extended bus lanes will give priority to Cairnshill Park & Ride buses and scheduled bus services on the Saintfield Road between Beechill Road and Upper Knockbreda Road.
There will also be priority bus lanes on the Ormeau Road between Ravenhill Road and University Avenue, city-bound, 7.30am - 9.30am Monday to Friday.
Transport Minister, Conor Murphy said: "I welcome the introduction of this frequent dedicated bus service for the Cairnshill Park and Ride.
He added: "This new bus service together with the new priority bus lanes on the Saintfield Road and Ormeau Road will improve the reliability and journey speeds both for the new Park and Ride service and existing bus services.
"The aim of these two new initiatives is to encourage more people out of their cars and onto public transport at the busiest times of the day, reducing congestion on city centre streets. "
There are a number of other park and rides in the city. The first was Northside which opened in 1995.
Since then, three other sites have been built: Blacks Road, Eastside and Ravenscroft.
Other sites situated outside Belfast include Sprucefield and Dunsilly.
Related Internet Links
The BBC is not responsible for the content of external sites.