Londonderry has 72 vacant business premises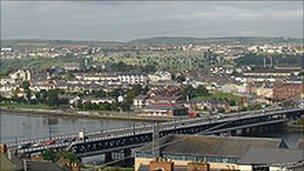 There are at least 72 business premises currently sitting vacant in Londonderry.
The figure comes from Invest NI's property search facility, niusinessinfo.
Locations include the 429,170 square foot former Fruit of the Loom factory in Campsie and empty shirt factories throughout the city.
President of the Londonderry Chamber of Commerce Jim Sammon said it was "too much space to leave vacant".
"We certainly have no shortage of space. That's one of the key reasons that this city needs regeneration," he said.
He said he hoped the spaces would soon be occupied.
"At the moment hope is growing, expectations are high in the city now, in terms of economic development and social regeneration."
Mr Sammon said the idea of a lower rate of corporation tax for Northern Ireland, which is currently being discussed, would be beneficial for Derry and for all of Northern Ireland.
"It would be a fantastic advantage for Northern Ireland as a whole if we could get that. At the moment it's 12% in the south but if we could get 10% that would really put us on the map in terms of jobs," he said.
"A study has been done that shows the potential for 90,000 new jobs across Northern Ireland in the next 10-15 years if that 10% rate was to come into play."
Related Internet Links
The BBC is not responsible for the content of external sites.