Documenting Chile miner rescue at Camp Hope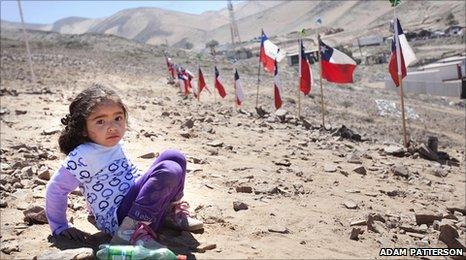 You can't really plan for a job like this.
When the phone rings and the voice on the other end offers you a ticket to a story so unique it will likely grace the text books of future generations, it's not something you think twice about.
I flew out from Belfast to Chile to work as part of a BBC Panorama documentary, with early reports suggesting I would be there until Christmas or beyond.
Only one road leads to the San Jose mine, a purpose-built stream of tarmac and dust knifing through northern Chile's Atacama Desert.
The families of the trapped miners had renamed the place Camp Esperanza (Camp Hope) and sustaining this hope through the days ahead would be a challenge equal to that of any engineer.
This human challenge would become the focus of our documentary.
Access to the drill sites at the mine, the rescue workers and all government officials was tightly controlled. Footage that was released was interesting but also edited.
Reports of unrest from the miners came through the families. We quickly realised that the most honest way of covering the progression of the incredible story was by following the people the trapped men were confiding in - their family members on the surface.
Camp life mirrored that of a small village. Many family members lived permanently in a designated area free from the pressures of the world's media.
In this compound 33 tents were constructed, allowing one for each family.
For larger families, relatives would sleep in a general area mixed with the press in makeshift tents and shelters.
Other relatives would arrive from nearby Copiapo by bus to lend support and post letters, while some would drive from further afield on weekends. Free meals were provided by volunteers and a school built to maintain the children's studies.
Using the drilled hole that initially revealed the miners to be alive, a Paloma system was implemented - a method used to keep the miners alive by delivering food and water.
This was then expanded to deliver correspondence from the families.
This daily exchange of letters, drawings and nostalgic objects would mentally sustain both the trapped men 600 meters below and their helpless families above.
We developed a close relationship with Angelica Alvarez. She took us into her life because she believed that sharing her emotions was the only way to relieve the pain and agony over the harrowing possibility that she might never see here partner Edison Pena again.
While she confirmed Edison was an eccentric character prior to the accident, it was clear from the video conferences and letters that his time underground had tormented him.
She was being told very little by the psychologists and often felt abandoned and lost in her own thoughts and worries.
During our time with Angelica and Edison's young brother Rafael, we spent many days and nights at her home in Copiapo where she made us feel part of the family, feeding us and trying to improve my Spanish.
We assisted and filmed her smuggling running shoes to Edison, who had become infamous in the mine running up to 10km daily in his own personal quest to "beat the mountain" and keep his thoughts clear.
Angelica also smuggled one of our cameras to him so that he could record his life trapped in the mine for us.
On the night of the rescue, atmosphere at the camp reached fever pitch.
More than 2,200 members of the world's press had converged, bringing more cameras, lights and egos that I am ever likely to see again.
As the first miners were liberated jubilation swept through the place, but it was tempered with the uncertainty that things could still go wrong.
While some families felt joy, others were visibly gripped with fear as they waited.
It was disturbing to see such a tense climax after so many harrowing weeks.
The remarkable strength shown by family members to deal with and suppress this pressure while maintaining uplifting letters to their fathers, brothers and husbands below was inspirational.
Angelica invited us to meet Edison the day after he was released from hospital. I found myself face to face with a man I felt I knew - from stories, letters and videos and it was yet another surreal experience.
To his credit he accepted us into his home and thanked us for helping Angelica through her time at the mine.
He was also grateful for the letters we had written to him and was keen for us to film him running on a nearby beach the following day.
Edison sang us Elvis songs and at times became emotional.
He is a man who is now defined as a survivor. After 17 days of despair, one of 33 condemned to death, he defied the odds.
The road ahead for him and his family is an undoubtedly tough one, but with Angelica and Rafael at his side I find optimism in hoping for a happy ending to such a remarkable tale.
Related Internet Links
The BBC is not responsible for the content of external sites.