Man denies murdering fiancee on day of their wedding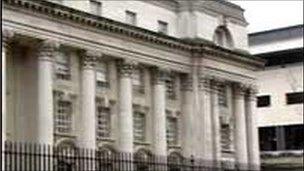 A man accused of murdering his fiancee on the day they were due to be married has told the High Court her death was caused by injuries she received from two falls.
Paul Michael Stockman, 53, from Bendigo Street, Belfast, denies murdering Patricia Bardon in her apartment at Elm Court, off Donegall Pass in August.
He claims she injured herself during two falls, one on the day of her death, the other two days earlier.
A lawyer for Mr Stockman told the court in Belfast that apart from the injuries sustained by Patricia Bardon, 51, there was no evidence of violence.
"The police case is that there was blunt force trauma but he is adamant that the injuries were the result of her falling on her face," said barrister Richard McConkey.
Opposing his bail application, Crown counsel Philip Henry said Stockman told police that Ms Bardon had fallen off a toilet seat, hitting her head on the floor, and he helped her into bed.
He denied any part in causing her death and claimed the injuries resulted from two falls, one on the day of her death and the other two days earlier.
Defence barrister, Mr McConkey said both parties suffered from alcohol dependency and after the second fall Ms Bardon declined medical treatment and went to bed.
Mr Stockman later became concerned about her condition and contacted the warden at Elm Court who called an ambulance but she was dead when the crew arrived.
Mr Justice Hart refused bail. He said there was a prima facie case against Mr Stockman, at least of manslaughter.