MPs hear corporation tax cut call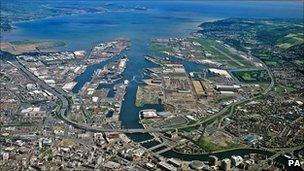 MPs have been told by a number of business experts that a cut in corporation tax would attract more inward investment to Northern Ireland.
They were testifying to the NI Affairs Committee which is investigating whether the rate should be cut.
The chancellor plans to reduce the tax in the UK from 28% to 24% over the next four years however corporation tax in the Republic of Ireland is only 12.5%.
MPs are considering whether NI should have a similar or lower rate.
Belfast based Eamon Donaghy of KPMG, who gave evidence to MPs, said the Republic's low rate meant that Northern Ireland was potentially losing business.
Jeremy Fitch, from Invest NI, said he "looked enviously" at the Republic's corporation tax rate.
He said if a reduced rate was introduced, it "would allow Northern Ireland to target a larger market" and would "definitely make a difference".
A move to cut corporation tax in Northern Ireland would be controversial because it would lead to a cut in the block grant allocated to the Executive from London.
Some economists say a tax cut could cost about £200m, but Finance Minister Sammy Wilson said earlier this month that the cost to Northern Ireland could be as high as £500m.
Victor Hewitt of the Northern Ireland Economic Reform Group, who also gave evidence to MPs, said the cost of the tax cut is not known and said estimates varied.
He said a drop in corporation tax rate should be seen as a sound investment.
A consultation document is expected to be published by the government by the end of November
Related Internet Links
The BBC is not responsible for the content of external sites.