Number facing fuel poverty up 20%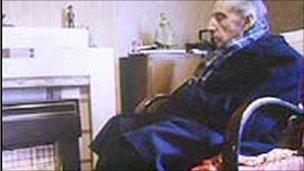 The number of older people living alone and facing fuel poverty in NI this winter has risen by 20% on last year, according to the Housing Executive.
Charities are asking for automatic payment of benefits for the elderly which will reduce the burden on the NHS and enable older people to stay warm.
Anne O'Reilly from Age NI said it was time for the Executive to act.
She appealed for NI's political leaders "to escalate the Fuel Poverty Strategy to Executive level".
Ms O'Reilly added "In 2008, Age NI warned our political leaders that older people were in the impossible position of having to choose between eating and heating their homes.
"In two years, nothing has changed for the better."
She said a long-term solution was badly needed.
"While we are relieved that the Winter Fuel and Cold Weather Payments for older people have been protected within the UK Spending Review this year, this sticking plaster approach is leading us into a 'groundhog day' situation where those most at-risk in Northern Ireland continue to suffer and die every year."
Related Internet Links
The BBC is not responsible for the content of external sites.