More Northern Ireland swine flu cases expected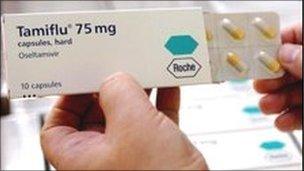 The Public Health Agency has said it expects more "sporadic cases" of swine flu in Northern Ireland in the coming weeks.
The PHA's Dr Brian Smyth was speaking after two cases of the virus were confirmed - the first in NI since the start of the year.
One case is a pupil at Ceara School in Lurgan - a special school for children with severe learning disability.
The other case, which is not linked, is a man from Northern Ireland.
Dr Smyth said he didn't expect the virus to circulate to the same extent as last year as many people now have immunity.
However, he advised anyone with underlying health problems to go to their GPs for vaccination.
Twenty people from Northern Ireland died in last year's swine flu outbreak, including children with severe learning difficulties.
Letters have been sent to parents of other children at Ceara school encouraging them to get their children vaccinated.
Local GPs have also been informed and no other associated cases have been identified, the PHA added.
Last year there was a programme of swine flu (H1N1) vaccination for pupils attending special schools.
The PHA is recommending that all special school pupils have the flu vaccine this year, even if they had the swine flu vaccine last year.
This year's vaccine will also protect against two other strains of flu, which could have serious complications in these children.
It will also boost their immunity to swine flu. Parents should contact their local GP for information about local arrangements.
Symptoms of swine flu in humans appear to be similar to those produced by standard, seasonal flu - fever, cough, sore throat, body aches and chills.
Some people with the virus have also reported nausea and diarrhoea.